Walls. They just separate different rooms or enclose your whole house, don't they? Well, technically that might be true but you can take the time to make them something truly special, just as you would your main home furnishing and art choices. 
Try to think of your walls as an extension of your style and an extra opportunity to demonstrate what a great interior designer eye you have! Just to give you a little helping hand, we've found some amazing wall finishes to show you today, so get ready to look at those solid divides a whole lot differently…
1. Rough textured concrete is an ideal choice for exterior walls, especially as part of a contemporary build, as it's so eye-catching!
2. Chunky slate tiles look rugged but also tactile, making them a dreamy interior option
3. Bare concrete walls are really taking off in terms of popularity right now and we can see why. So simple, yet cool
4. Exposed red brick walls add a natural warmth and charm to any property but look especially good in a heritage home
5. Moulded plastic walls are so unusual but, with the dawn of 3D printing, are now so much easier to create and as striking as ever
6. Hone in on a theme and you can go as crazy as you dare with your walls. These wall-to-wall 'speakers' look amazing!
7. Stripped pine isn't just for saunas and ski lodges. It really brings an organic feel home when used on the walls
8. Mottled plaster looks amazing, lending character and modernist style to a room. You can create this look with a sponge and some paint
9. If you like art, why not consider a graffiti wall in your home? We doubt you'd ever see another!
10. Mixing traditional and modern materials on the exterior walls of your home will create a stunning juxtaposition and pique the interest of passers-by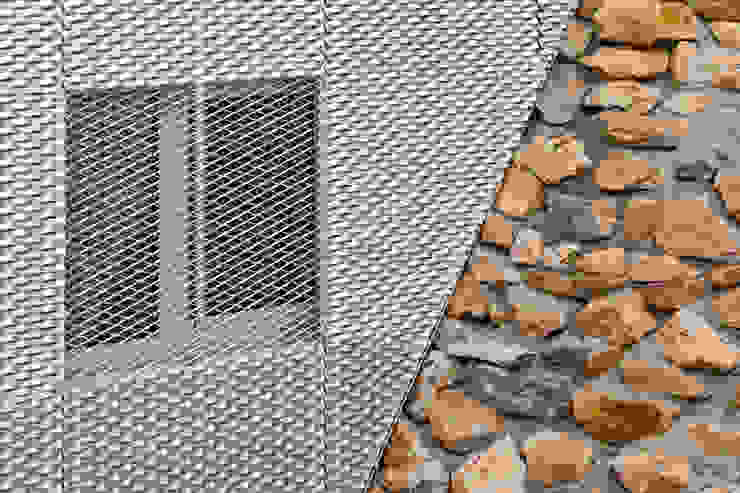 Reflecting Cube—House in Weinheim, Germany
Helwig Haus und Raum Planungs GmbH
11. Hand-painted murals are a beautiful way to make your walls totally unique
12. If you like the look of natural stone but aren't keen on the texture, printed wallpaper could be perfect for you! All the look, with none of the jagged edges