You think of bathrooms and what comes to mind? A purely functional room where style plays second fiddle to the necessary suite? 
Well, bathroom designers would tell you that both elements are equally as important and we happen to agree, which is why we've taken the time to find some of the most eye-catching walls in bathroom designs out there.
We know you'll see your space in a whole new light after this article and that you'll be keen to experiment with new textures and colours, so let's not waste any more time talking and get to the fun part!
1. Perfectly-lit pale stones make for a fabulously neutral but unavoidable feature wall
2. Exposed brick walls have such an industrial feel they work in super contemporary bathrooms
3. For a touch of luxury, what can be better than dramatic marble bathroom walls?
4. Treated wood is a wonderful way to add some organic warmth and texture to a room that is often devoid of bot
5. Specialist wallpaper can really lift a bathroom, but enure it's designed for use in damp areas
6. Large, dark stones create a brooding, masculine vibe that would be amazing in any bachelor pad!
7. Murals and frescos can turn even a regular bathroom into a work of art. What a way to personalise a space!
8. Modern tiles aren't just coloured or patterned any more, they can also be faceted! Don't you want to run your hands over these walls?
9. Talking of tiles, mosaics can make a beautiful feature of smaller areas, such as showers
10. How about something a little more modern and complex? Concrete bathroom walls are really gaining in popularity
11. We love the pebble wall look! Can you imagine how gorgeous this finish must feel underfoot?
12. We're seeing ultra dark paint in so many rooms now, but a bathroom? What an impact!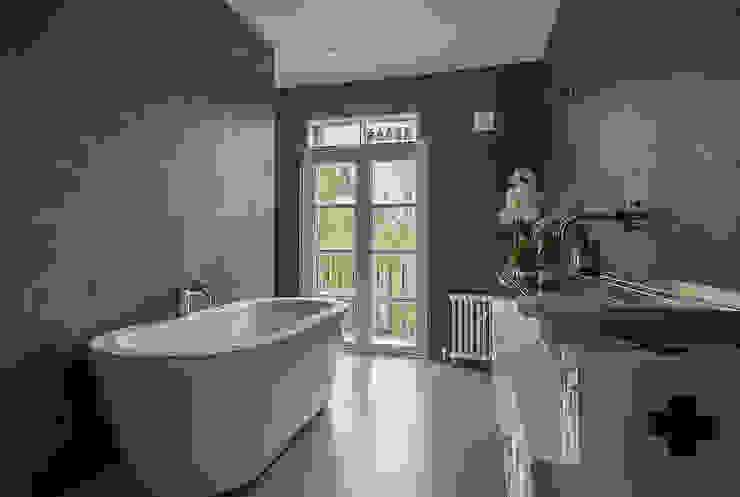 Full House Renovation with Crittall Extension, London
HollandGreen
13. If walls in general aren't for you, how about stripping them out and replacing them with glazing? If you're not overlooked, what's the harm?

Stormy Castle
LOYN+CO ARCHITECTS
For more great bathroom inspiration, take a look at this Ideabook: 15 Small Bathrooms To See Before Renovating Yours.