If you've been thinking about adding a stunning terrace to your garden then this is the perfect Ideabook for you. We've collated some of our all-time favourite examples to overwhelm you with inspiration for your own home. 
Trust us when we say you'll be the toast of the neighbourhood and everyone will want the number of your landscape architect, even if you didn't use one! 
For some gorgeous all-weather shade and al fresco dining potential, come with us as we take a tour of terrific terraces…
1. This transparent terrace makes the perfect location for a sneaky slice of luxury. Imagine enjoying an evening hot tub under cover and under the stars!
2. If you entertain regularly we don't think you'd argue that an outdoor kitchen and bar isn't a great investment
3. The elegance and simplicity of this terrace speaks to us, invoking images of sophisticated evenings and delicious food. Of course that's quite a view but even without it, this terrace is a dream
4. If you have a pool, you need a terrace. The two just go hand-in-hand, whether for drying off and changing or so that you can enjoy a drink before you dive back in!
5. How about going all out with your terrace and building a games room on it? Brave, budget-stretching and a little out of the ordinary, we know, but so much fun!
6. We really like the idea of having a terrace all set up with a second kitchen, especially if there's a chance of some great weather. Summer should be spent outside, not indoors, and this makes that a possibility
7. Some classic decking and clever lighting can be all you need to create an astonishingly beautiful terrace, as this example proves! It's the vibe that's important, not the size
8. This is a terrace with a difference. The perfect transition from the indoor to outdoor spaces, it merges seamlessly with the house and surrounds this central garden. A few chairs and you'd have everything you need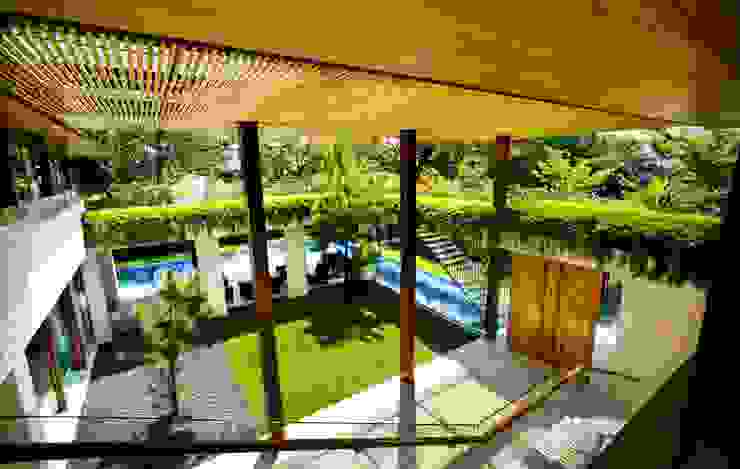 Maryland Drive
Guz Architects
9. There's no two ways about it, roof terraces are gorgeous and a great way to use your space more imaginatively
10. If you already have a terrace and are wondering how you can upgrade it quickly, how about one of these inflatable pools? Quick to erect and fun for the whole family, it's a one-stop way to change up your garden!
For more lovely terrace inspiration, take a look at this Ideabook: 5 Eye-Popping Terrace Transformations!