Victorian terrace houses are charming, exciting and a staple in British architecture, with street after street of gorgeous period properties making every city in the UK really dazzle. And today, we're going to show you five of our favourites! 
Each of these homes has been beautifully restored and improved, thanks to the genius of the interior designers in charge, and we just know that if you've been thinking about buying a terraced property or renovating your own, you'll find all the inspiration you need, right here. 
We'll give you an introduction to each home and then let the interiors speak for themselves, as we don't think we could ever say as much as these pictures do!
1. Stoic and striking.
This amazing Victorian terrace house has such stature, don't you agree? Left unadulterated, with the red brick façade, there is so much character and presence, just from the outside. What you'll find inside, might surprise you though! A piquant mix of traditional décor and modern innovation, the interior is a myriad of styles that come together to create a spacious and timeless property. The kitchen is a testament to understated modernity, while the living room, with hardwood flooring and decorative architrave really nods to the heritage of the property. Let's take a look!
So open and sleek!
Just the right amount of tradition.
2. Beautifully British.
When we picture terrace houses, this is what comes to mind! Tall, generously-proportioned buildings with traditional exterior mouldings and sash windows, but as lovely as this exterior is, it's inside where the magic really happens. With a generous extension to the rear, a new kitchen space has been created and wow, was it used well! A colourful installation has really lifted the space and offered great contrast to the uniform white walls throughout and with natural wood flooring everywhere, the blending of old and new has been masterminded perfectly. Let's get in there!
How does this blue look so right in an older home?
Just look at that fireplace!
3. Award-winning design.
You can get a hint as to how much modernisation has occurred in this home, thanks to the extension on the left, but by keeping it perfectly matched to the original house, there isn't a jarring jolt from Victorian to contemporary. The inside is another matter though! Sunken ceiling lighting, floating architectural features and a starkly contemporary furnishing style all guaranteed that this Victorian terrace was one that could never be forgotten, as it won a number of design awards. We think you'll love the dark heritage wall colour and occasional fancy details, so let's have a look!
Is that wall floating above the floor? WOW!
Look at the traditional insertions here! What cohesion!
4. The London look.
You can't deny that there is something about this Victorian terrace house that just lets you know, beyond any reasonable doubt, that it is found in London, can you? Perhaps it's the super stern black front door, or the authoritative stance, but whatever it is, we love it! Inside, you'll find a combination of modern convenience and traditional British luxury, with a phenomenally styled kitchen and a softer, more subdued living room. There's even a charming courtyard garden, found at the rear of the kitchen! Come and have a look!
Retro meets tradition so well here. Just look at that light!
5. Pretty as a picture.
What a beautiful Victorian terrace house! Looking every inch a wonderful, cosy and welcoming family home, we love the soft colours and total lack of modernisation here and though you might be expecting a shocking interior, it is surprisingly pared back. Soft tones, lots of natural light and comfort were clearly deemed far more important than installing a starkly contrasting and contemporary interior and the result is a beautiful home that feels full of love and good vibes. Just wait until you see the almost minimal styling of the living room!
This open-plan scheme works so well!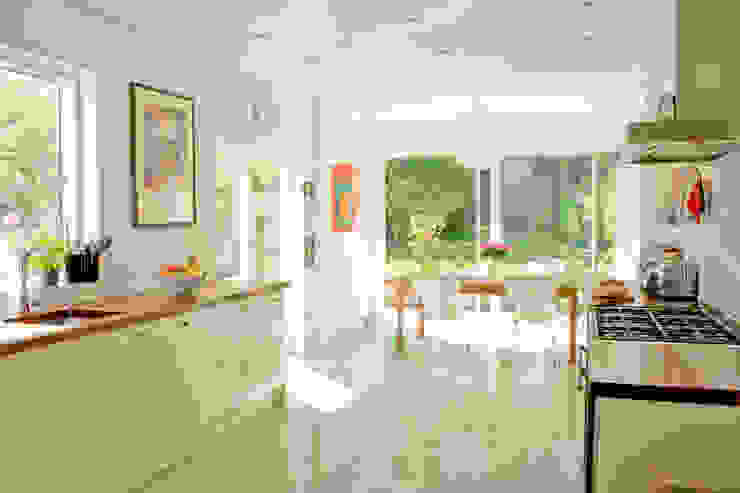 Kitchen / diner
Dittrich Hudson Vasetti Architects