We all want a gorgeous patio, but other than some flagstones and furniture, do you know what you should be considering for your design? We do, because we've found 15 patios that are nothing short of amazing, and, just to give you some ideas for your own, we're going to show you them, right now! Your landscape architect would be able to suggest some brilliant additions that would work well in your particular garden, but for a more general influx of inspiration, we know we've hit the jackpot with this article. From tropical hues through to perfect planters, there are so many piquant additions to consider for your space, so let's take a look at some of the best out there and see what they can teach us!
1. Keep things simple and easy to maintain, but add in some colourful furniture, to spice up your aesthetic a little. Easy peasy!
2. Some simple containers will add so much sophistication, as well as luscious greenery! We'd pop some solar lights in there as well as plants!
3. How about painting your walls in a vibrant hue, to add a personal and eye-catching aesthetic? Choose a warm colour, for year-round summer vibes!
4. Building a grilling station on your patio will make it party-ready at the mere strike of a match! You'll never get rid of your friends though, so be warned!
5. A mix of natural materials will always make your patio look as though a landscape architect designed your hardscaping for you! Gorgeous!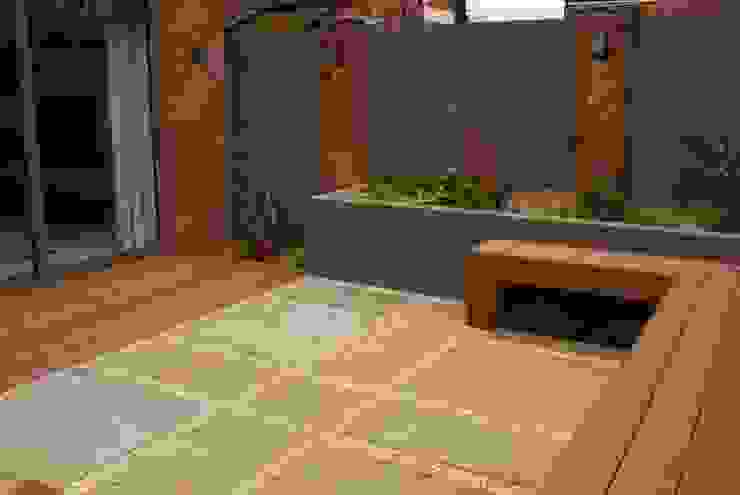 Contemporary Courtyard—Salford
Hannah Collins Garden Design
6. How about swapping out your standard furniture for something more luxurious and comfortable? Talk about a cool cabana look!
7. Adding planters to your walls will make them pop for all the right reasons! Add evergreens, for low maintenance displays as well!
8. A rustic wooden pergola will give your patio some fantastic framing. You could even add lighting as well, for a day-to-night look.
9. How about thinking of the kids too? Adding a little play area to your patio won't detract from how pretty it is and you can all enjoy it together!
10. A green wall installation will make your patio feel like a secret garden! It won't even demand much of your time once installed.
11. Stretching an awning above your patio will help you use it so much more. We all know that the UK weather is far from predictable, so why risk rain ruining your day?
12. A simple mix of shingle and stained wood decking will create a more organic and inviting patio. Just look at these natural tones!
13. Bring some of your interior design choice out onto your patio for more of an outdoor living room vibe! We think this space is perfect for summer!
14. Made to measure decking will always give your patio an edge of style and sophistication, especially if you use a dark wood, as seen here!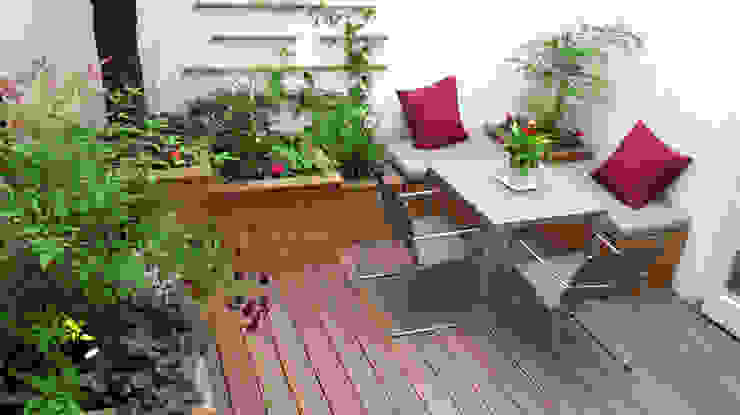 Marylebone Courtyard
Fenton Roberts Garden Design
15. Choosing a prescriptive colour scheme and going all out with it will make your patio so much more fun. Just look at this fruit salad scheme! Wow!
If you're in the market for more garden inspiration, take a look at this Ideabook: 11 epic BBQs to fire up your garden this summer.