Die meeste van ons het ten minste een vreemde area in of buite ons huis wat ietwat klein is, snaaks uitgelê is, en wat ons nie regtig weet wat om mee te doen nie. Dit kan 'n nou gangetjie tussen jou huis en motorhuis wees, 'n klein spasie in die tuin, of sommer net 'n ou stoep of balkon wat nie heeltemal so groot is soos wat jy wil hê dit moet wees nie. 
Ontspan as dit die geval is, want hierdie 12 voorbeelde behoort jou 'n paar stylvolle idees te gee…
1. As die dak/plafon van jou stoep sterk genoeg is, kan jy altyd 'n hangstoel probeer, aangesien dit geen vloerspasie opvat nie.
2. Natuurlik kort jy nie meters en meters vloer vir 'n oulike sofa en/of koffietafel nie.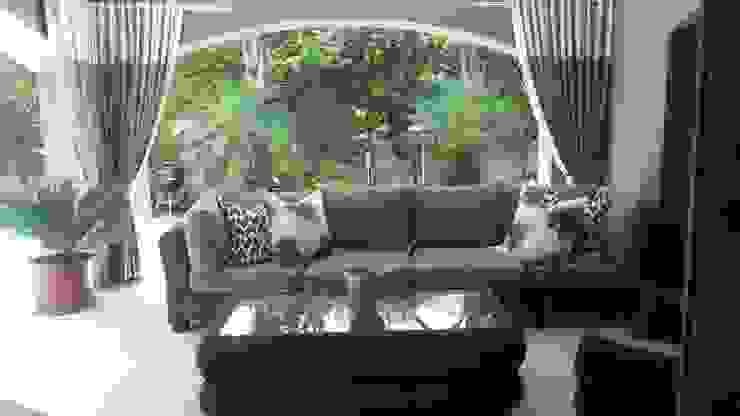 Riverclub Estate
CKW Lifestyle Associates PTY Ltd
3. Kyk net hoe kreatief kan mens raak met 'n stoep se vloer, wat dit dadelik soveel meer aanloklik maak!
4. Een of twee potplante, 'n houtbankie en paar klippies, en siedaar!

Small Garden spaces
Young Landscape Design Studio
5. Span 'n seil vir skaduwee en omskep daardie klein stoepie in 'n heerlike ontspanningsplekkie.
6. Met so 'n bekoorlike uitsig sal niemand omgee as jou stoep/balkon ietwat klein is nie.
7. Het jy ook so 'n "weird" hoekie in jou tuin? Wat van so 'n ontwerp?
8. Spaar water en gaan vir 'n Zen (klip) tuin.
9. Al wat hierdie klein stoep gekort het was kunsmatige gras, 'n houtdek en 'n potplant.
10. So 'n klein tuinstel is hoog mode!
11. Selfs die kleinste balkon kan super stylvol word as jy versigtig is met meubels en dekor.
12. Die vinnigste manier om 'n klein erfie mooi te maak? 'n Netjiese grasperk.