Whoever said that sublime design/architectural beauty was unachievable without a tremendous budget obviously never heard of homify. Whether it's a new look for your bedroom, some jazzed-up décor for your kitchen, or eye-catching style for the garden, there are always tips and tricks that don't cost an arm and a leg.
Take these ideas, for instance, that'll help transform any dull old patio or terrace into a space of memorable beauty and functionality…
1. Forget about buying and planting new grass and lay down some artificial turf.
2. Think practical, like an awning or parasol to spread some shade.
3. A wooden trellis is a no-fuss addition for privacy and plenty of greenery.
4. Use recycled and repurposed material to fashion some new pieces, like this dining set made from old wood.
5. You don't need to spend a fortune to set up a decent-looking pergola. Just make sure you have a professional's touch/assistance.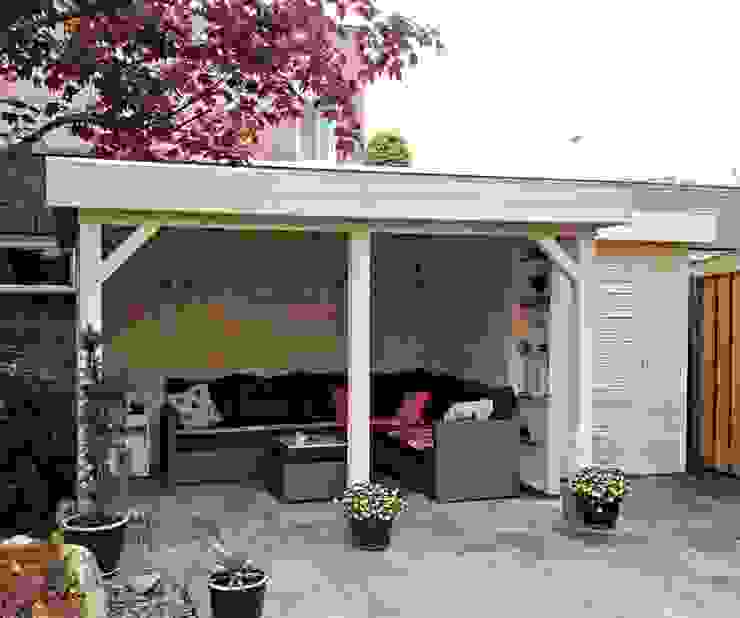 Gazebo with intergrated garden store
Garden Affairs Ltd
6. Do up your pergola with elements like drapes and fairy lights to make it shine and give a welcoming look.
7. Potted pretties with colourful flowers? Now there's a budget-friendly idea!
8. Give your existing outdoor furniture some colourful character by painting it in vibrant shades.
9. Wood and stone can go a long way in helping to lay down a pretty garden path.
10. Create a vertical garden like this one by suspending potted plants on a close knit and sturdy trellis so that you make use of every sliver of space on your patio.
11. Wood and stone are also superb to create a contrasting effect, whether it's on the floor, in your potters or a homemade bench on your terrace.
12. Stones, pebbles and succulents can style up even the smallest of spaces.
13. Cheap materials can be made to look quite costly, like with this rustic little garden bench.
14. You can use layers so that you have a tiered look, helping to make any space look larger. This also adds a stylish edge to the patio.