The word "rustic" gets thrown around quite a bit. It is used to describe anything from farmhouse decorations to a Tuscan-style villa. But what does it really mean? Does your house need to resemble a vintage log cabin in order to be considered truly rustic, or can that one little word be applied to a variety of different design styles and elements?
Professional Interior Designers and Decorators will tell us it's the latter, for sure, but keep in mind that various factors need to be present in order for a space's design to be considered rustic. And we thought that we'd use the kitchen to present the rustic design style visually, since it's considered the heart of every home!
Think of the rustic kitchen as a homely, quaint little country cooking space with large cabinets, warm hues, and various wooden surfaces with lots of detail. While a modern kitchen, for instance, will give off an open and clean vibe, the rustic kitchen opts for a more casual and inviting feel. And rustic kitchens are always made to be used, not only admired. That is why durable lasting materials like wood and iron feature quite strongly in rustic-styled cooking spaces. 
Colour is another vital factor to get right if you want your kitchen to be considered rustic. Your colour palette should be warm and natural, with tints that enhance those wood cabinets. Leave the glossy stain finishes for more contemporary spaces and opt for rugged or matte to accentuate the authentic look of the wood.  
Wide-planked wood floors are also quite common, yet tiled surfaces can also be used in rustic kitchens as long as their colours are earthy / neutral. To further accentuate the natural wood feel of your cabinets, try adding a ceramic sink, butcher block countertops, honed granite, and hammered copper. 
Don't forget about the little details, like your cabinets' hardware. Ditch the sleek stainless steel or silver finishes and instead opt for rubbed brass, wrought iron, distressed gold, or bronze knobs and pulls to fit in with that old-yet-charming look. 
Let's see how the rustic style is achieved perfectly in these 9 small kitchens. 
1. How about a touch of Mediterranean tiles to add some pattern and colour to your rustic kitchen?
2. See how wood envelopes a variety of surfaces in this open-style kitchen. And the glass windows with garden views enhance the culinary space's natural vibe perfectly.
3. An exposed brick wall becomes a stunning focal point in here, while timber countertops and shelving kick the raw / rustic vibe up a few notches.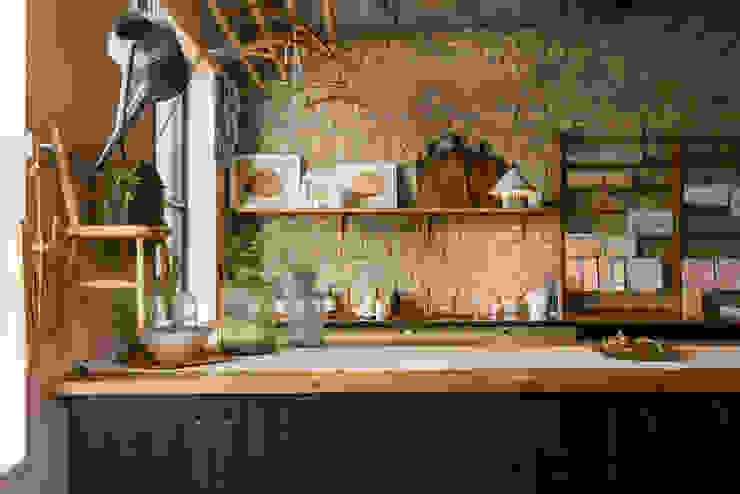 The Potting Shed in Manhattan
deVOL Kitchens
4. Getting very creative with its colour palette (look at that soft pink!), this kitchen also ups the pattern via its striking floor design.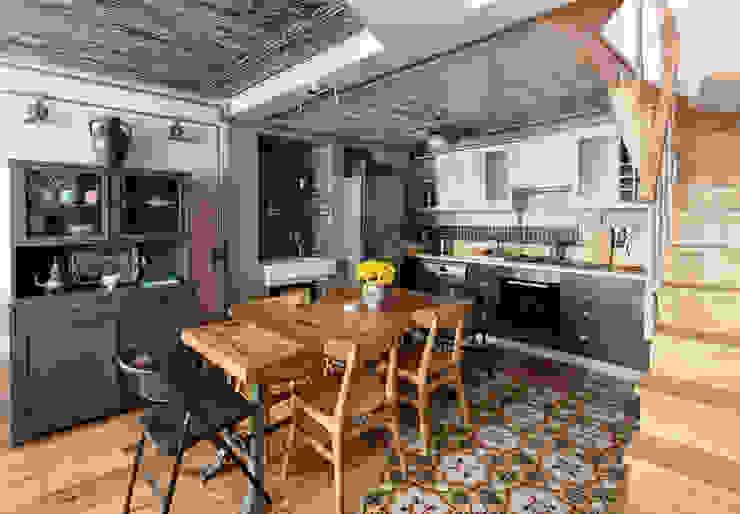 Karoistanbul reaches for the history
KAROİSTANBUL
5. Not in the mood for warm beige? This rustic kitchen cleans up quite nicely with white and light grey, making those charcoal-tinted appliances and hardware become even more striking.
6. This is how you perfectly mix and match the classic, modern, and rustic style! Those golden finishes and soft pink cabinets soften the rustic look superbly.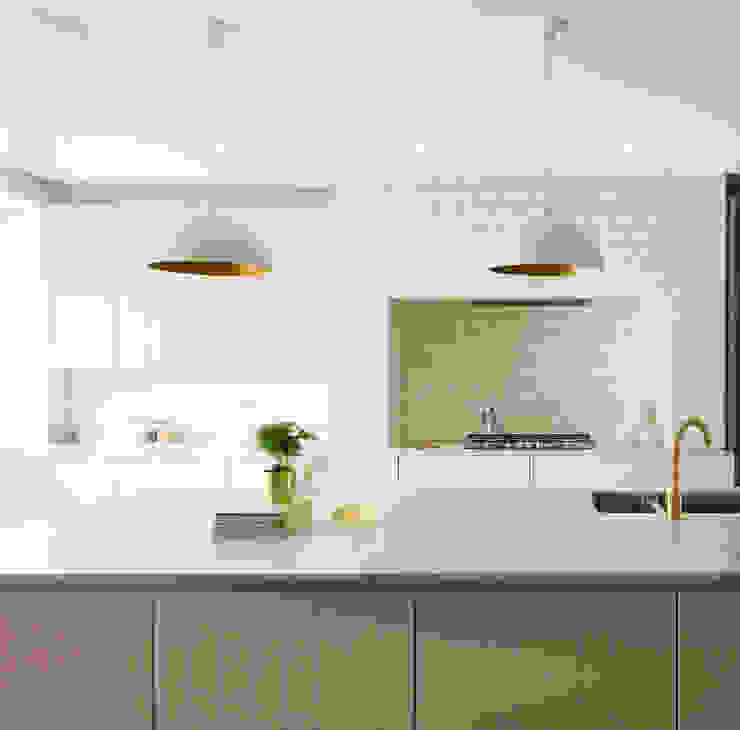 Urban rustic style—Victorian villa, Hammersmith
My-Studio Ltd
7. Wooden cabinetry in a beach hue paired with colourful (and patterned) walls make this rustic U-shaped kitchen one of the most charming we've ever seen!
8. A rustic ceiling beam complements the wooden floors and dining table perfectly. And don't you love how that deep blue of the cabinets make the kitchen seem softer?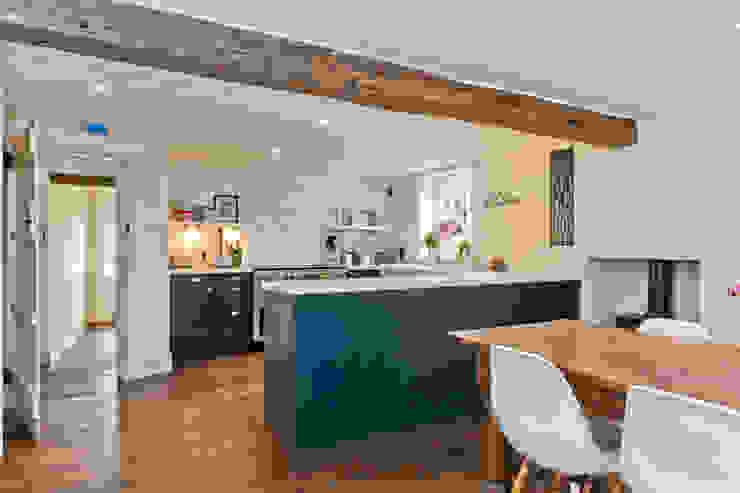 Japonica Cottage, Surrey
Orchestrate Design and Build Ltd.
9. Finally, some wrought-iron bar stools to lend an artistic look to this kitchen. And notice the potted plants that enhance the natural look of the timber cabinetry!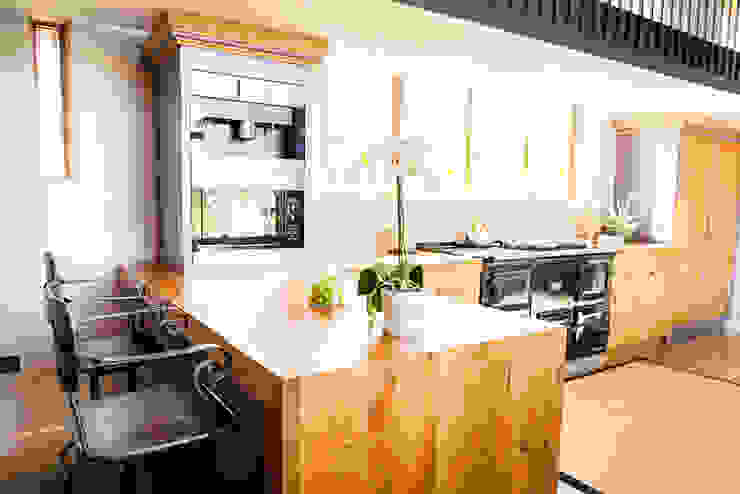 Rustic industrial style kitchen
Love Wood Kitchens
Busy giving your interiors a new look? Then you'll want to have a look at these 5 flooring ideas for your home – and their pros and cons.