Not to put more fear into your heart, but getting a baby nursery right can be overwhelming. That is why we thought we'd list 10 of the essentials to get you going, plus include some design examples to inspire you – you know, in case baby bottles and dirty diapers are part of your future.
So, what are regarded as essential for a new nursery?
Crib or bassinet: Whatever style and budget you have for your baby's sleeping spot, ensure it is sturdy and made of quality materials.
Bedding: While crucial for your baby's comfort, shopping for bedding can also be fun since there's a wealth of varieties to consider, such as crib sheets, pillows, blankets, bumper pads, and more.
Changing table: It's great that these are available in many different sizes and designs, some even with shelving for organising diapers, wipes, ointments, etc.
Storage baskets: Trust us when we say these are going to come in much handier (for blankets, burp cloths, toys… ) than a pretty piece of décor next to baby's crib.
Dresser: Since babies go through several changes of clothing a day, an organised dresser will be an essential piece of nursery furniture.
Mobile: It soothes them to sleep and entertains them when they're awake. Some crib sets even have matching mobiles in case you don't feel like buying some separately.
Rocking chair: That rocking motion does wonders for baby's mood (and sleep schedule), plus you have a comfy spot to breastfeed.
Clothes hamper: Just like baby's dresser, a clothes hamper will be a blessing to help keep that nursery neat and clean.
Baby monitor: Audio-only baby monitors are adequate for many parents, yet some prefer video monitors as well to keep an eye on their little one(s), day or night.
Night light: As there are bound to be many late-night visits to the nursery, choose a soft night light instead of a bright overhead fixture to disturb baby's sleep as little as possible.
Now, let's be inspired by top-notch nursery designs by some of our best professional Interior Designers and Decorators…
1. Don't discount the style power of wall art and their ability to bring colour, pattern and texture into a room's design—yes even for teeny tiny baby rooms!
2. Light and bright—and a clean, calm neutral colour palette that (thankfully) avoids those sickening pinks, boring blues, etc.
3. Got the space (and the plumbing) to include a sink in baby's room? Take it, as you'll be using it more than you may think…
4. Don't forget to make use of your nursery wall space, whether it's for storage, décor accessories, or simply to splash some colour and patterns.
5. Could a soft, LED wall-mounted design such as this one work for your baby's nursery?
6. Yes, they may be small, but even babies deserve a nice window with a pretty view for their bedrooms!
7. A kid's play spot mixed with some fresh potted plants for visual detail and emphasis? Why not?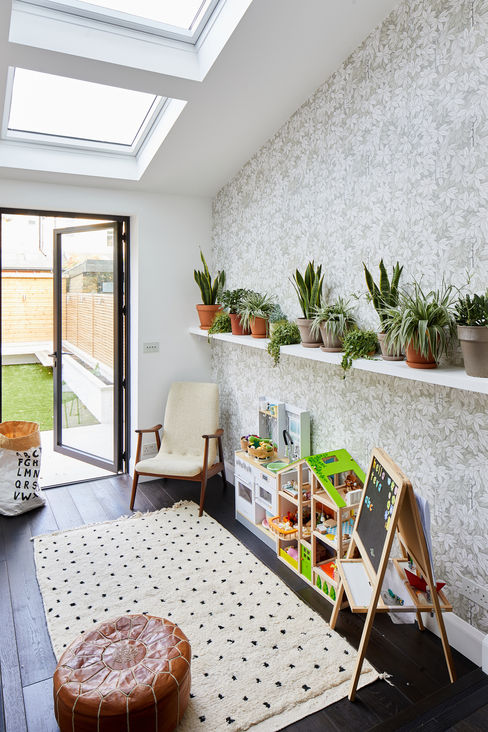 Earsfield House
VORBILD Architecture Ltd.
8. Don't discount pretty patterns—while they take up NO legroom, they are super skilled at introducing detail and character into a space.

Beautiful curtains, blinds and soft furnishings
Bluebird Bespoke
9. A simple focal wall can also boast the right colour without drowning the entire room in it.
10. Instead of scattering thousands of accessories through the room, cut down on your shopping and include one large piece (like a mural) to properly set the mood and theme.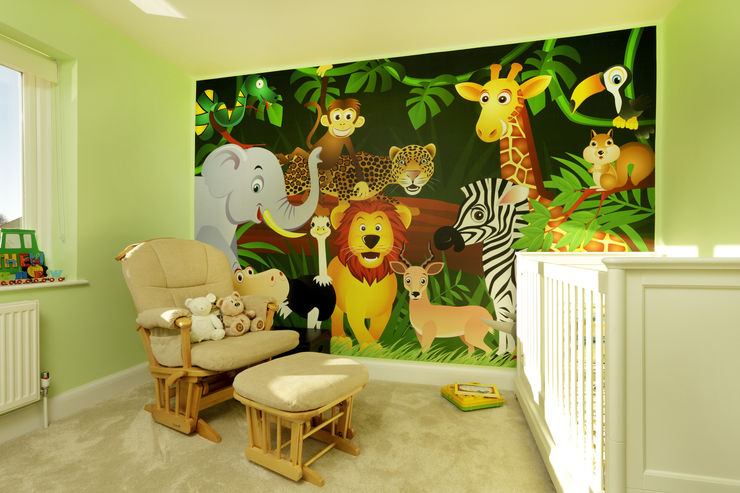 The Ridgeway
Civic Design + Build
11. Since they're rather short for a few years, even a loft with sloping ceilings can be a good start for a nursery / kid's bedroom.
12. Just like any other room in your home, layered lighting is important for a nursery. Thus, don't be shy to add wall sconces or a chandelier to boost that night light's illumination.
13. See how easy it is to carry a colour (like this sunflower yellow) through an entire design without dominating a whole room?